"Everyone you meet always asks if you have a career, are married or own a house as if life was some kind of grocery list. But nobody ever asks if you are happy." – Heath Ledger.
The locals here in Sri Lanka seem to ask this simple question: "are you happy?" all the time. It makes you kick yourself if you're having a bad day or whining about some stupid first world problem. These people shouldn't care if a foreigner who should obviously be enjoying themselves in paradise is happy, but they genuinely do. Happiness seems to be number one on the agenda in Sri Lanka and this is one of the many reasons that make it such an amazing country. Sri Lanka seems to move at a slower pace then most of us are used to. This can be mildly infuriating to some people; waiting an hour for a meal or being forgotten completely at restaurants can sometimes happen, but these are small compromises for the feeling of complete ease, happiness, and acceptance that seems to take over you here.
The beautiful scenery, welcoming locals, perfect surf, and beaches will make you fall in love at first sight with Sri Lanka; however, there's something magical about this paradise island and its people that will leave you wanting to return as soon as you get back home. This is especially the case for hidden gems like Ahangama on the South-west coast, where Lanka Living Surf Squad is lucky enough to call home. Lanka Living is a surf camp that was created by Mikaela from Sweden.
Lanka Livings accommodation is in a beautiful villa hidden up in the jungle treetops minutes away from the center of this small fishing and surfing town. Although tourism has been growing rapidly in recent years, Ahangama has managed to hold on to that beautiful and authentic Sri Lankan charm. Lanka Living villa is surrounded by rice fields and dense jungle where monkeys, buffalos, peacocks and other wildlife are a frequent occurrence.
You can see the heart and effort that has gone into making Lanka Living what it is today as soon as you step foot on the property. Their villas have two giant hammocks; perfect for chilling after a surf session or to have some pre-drinks before going out, a gorgeous outdoor bamboo shower to cool down and wash off after a surf and plenty of intricate, beautiful details in between. The Lanka Living crew did not want to create just any surf camp, they wanted people to experience what Sri Lanka has given them: a place where people can be themselves without judgment and get the most enjoyment out of life as possible. It doesn't matter if you're a solo traveler, couple or with a group of friends, Lanka Living welcomes everyone and customizes your stay to fit you.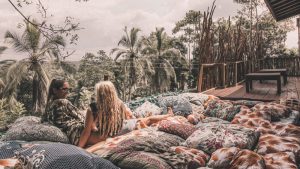 Of course, the most important thing next to happiness is the thing that makes the crew at Lanka Living the happiest: surfing! Lanka Livings daily ritual usually consists of a surf lesson in the morning for level 1 and level 2 students and those who did not book lessons can come along for the ride to the spot of the day. It's hard to find surf instructors as passionate and dedicated to their students as Mika, Ashan, and Lanka Livings other instructors. Surfing is something they have dedicated their lives to and truly want to see you develop and improve as a surfer. If you're already happy with your surfing, Lanka livings crew will happily show you the best breaks in the area depending on the day's conditions. The surf spots around Ahangama vary from mellow beach breaks ideal for beginners to deep reefs for those who are ready or already comfortable riding green waves to epic advanced spots like the Rock; known to be the best A-frame reef break in Sri Lanka.
After the lesson or free-surf a massive, healthy brunch is waiting for Lanka Livings hungry surfers, with plenty of delicious, healthy and filling options to choose from. Once breakfast is over it's time for chilling, more surfing or choosing an adventure of the day. Ahangama is close to many different places to explore and immerse yourself in amazing Sri Lankan culture. Try out traditional stick fishing, Sri Lankan cooking classes, visit tea plantations, beautiful temples, explore neighboring areas such as Koggala Lake, Galle, Mirissa, Unawatuna and many more. For those keen to join, Mika has created a special work out called surf fitness, that teaches people surfing specific exercises to keep you surf fit when you're away from the waves, making your return to surfing a breeze.
Lanka Livings team prides themselves on catering their guests stay to suit the individual, so it doesn't matter if your top priority during your stay is surfing, relaxing, exploring, fitness or even partying; all the options are there for you. For those that are keen to party; the crew are usually always up for it and know all the best spots in the area and will take you with them, they surf hard and play hard. Lanka Livings spacious camp is also the perfect spot to pre and post party with all its hidden areas there's plenty of spots to make as much noise as you want without disturbing those that prefer to chill and stay home. Nothing cures a hangover quite like sipping a fresh coconut in a giant hammock filled with pillows in the peaceful jungle.
Ultimately Lanka Living is a sanctuary who's team will happily customize your stay and cater to your individual needs whatever that may be. A place where different people with different personalities from all over the world can come together, be themselves, become a family, escape the mundane, try something new and most importantly…have the most fun possible and be happy!