Surf Skill Level
Beginner, Intermediate, Advanced
Location
Puerto Escondido, Mexico
Accomodation
Luxury Hotel With Infinity Pool & Ocean View
Surf Skill Level
Beginner, Intermediate, Advanced
Location
Puerto Escondido, Mexico
Accomodation
Luxury Hotel With Infinity Pool & Ocean View
In a nutshell, Lanka Living is for those looking to experience surf life in paradise. They are social and active legends who like to keep fit and surf. They pack the schedule full of activities like surf trips, adventures, beach volleyball tournaments, sunset cocktails, beach parties. This is not your average surf retreat.
Customization
Who knows your needs better than you? We know how to customize your surf vacation according to your needs and desires. Together, we can create a quality, unforgettable surf experience tailor-made just for you.
Personal attention
We believe in people and communication. Therefore, we insist on providing you personal attention in and outside of the water to enhance the overall experience and learning curve.
We create stories
Our holistic experiences will enrich and expose you to different cultures, landscapes, fascinating people, tastes and, of course, perfect waves. All together we create a story – A one you'll want to tell!
What's included
The package includes:
SUV Airport pickup & drop off
SUV Transportation to daily surf spots
7 Nights private suit, AC, Hot water, in room kitchen, infinity pool, rooflounge
7 Brunch (+ info )
1 BBQ (+ info )
5 Surf Lessons (certified teachers) (+ info )
3 Video Analysis (+ info )
5 Surf Theory (+ info )
5 Yoga lessons
5 Breathwork sessions
2 Surfitness Classes (+ info )
1 Pool Party with international dj's
Professional photographer
Each private suite has a King Bed with pillow top mattress, hot shower, full kitchen, private balcony, and ocean views. Lay in bed and watch the sunrise each morning.
Food
Our menu consists primarily of healthy, plant-based goodness, with a rotating selection of local and international dishes that make use of the best quality local produce. We throw in the occasional seafood dish when we can find a great catch at the local fish market, as well as the odd chicken dish for the meat lovers, but our menu is mostly plant-based.
Accommodation
Luxury Hotel With Infinity Pool & Ocean. Our private accommodation offers guests a tranquil, rejuvenating, home away from home experience. The room has its own bathroom, hot shower, kitchen and a balcony overlooking the ocean. You also get free access to high-speed wifi internet. The bedroom has a spacious and comfortable king sized bed. Air-conditioning is provided to ensure your comfort during hot days.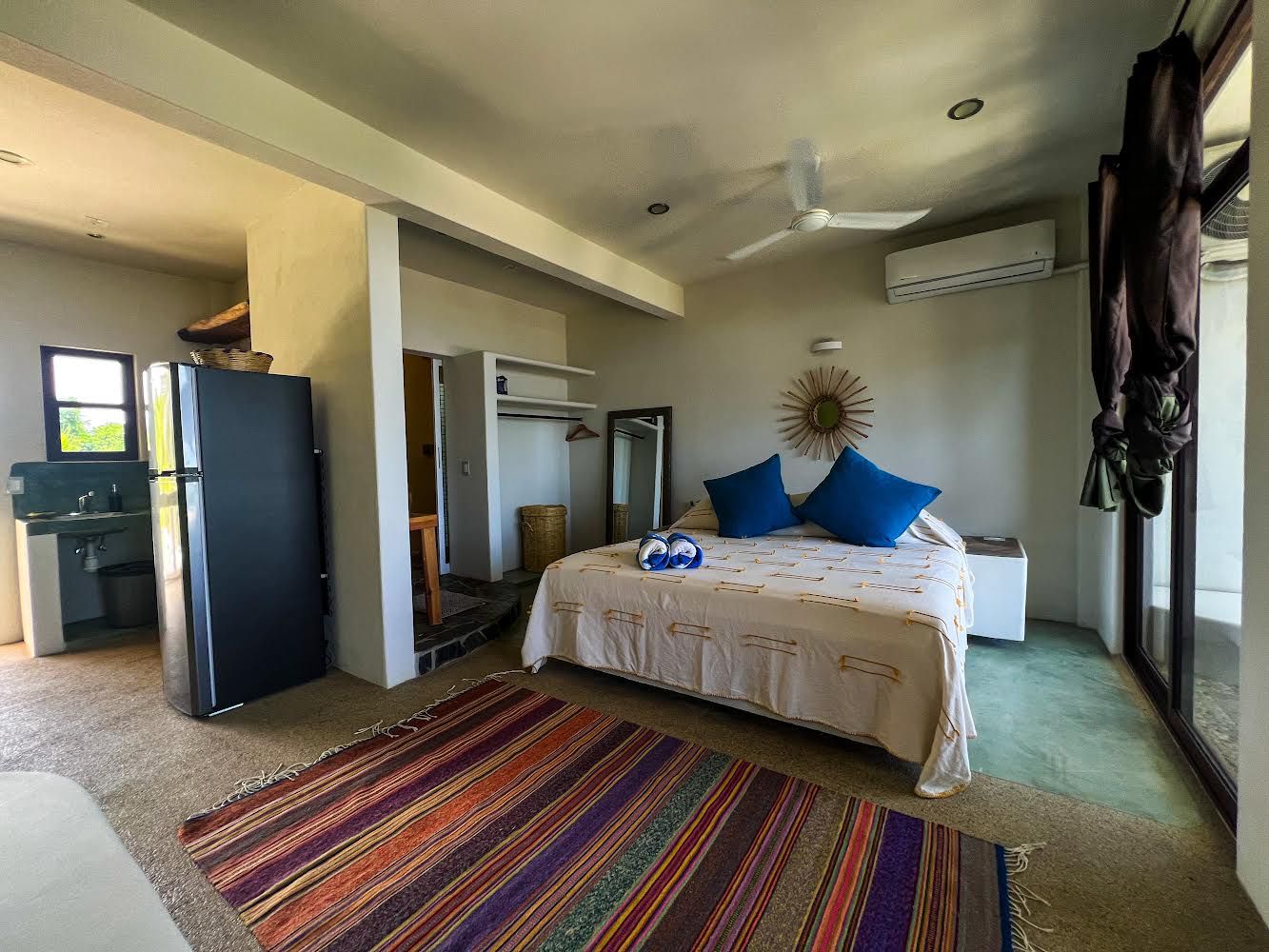 Location
Mexico's Puerto Escondido Is A Magical Place, A Small Vibrant Town Where Mexicans And World Travelers Vibin & Surfing. It Is Famous for Its Cozy, Authentic Beach Ambience; No Big Hotels, No Mainstream. It Is Rated One of the Top Surfing Destinations in The World. Learn to surf, explore, do yoga, take Spanish lessons, swim, snorkel, sky-dive, shop at the local markets, rent a scooter, do a horse ride or get a massage. Anything you desire.
Wanna join our epic surf retreat?
Use the contacts bellow to book your spot or ask for more information!